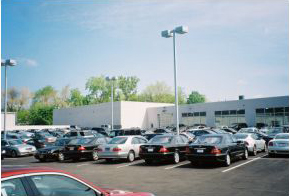 18122 Rockside Road
Bedford, Ohio
Architect of Record for new addition & remodeling of Mercedes-Benz. Project included 3 phases of work. The first phase consisted of remodeling of 5,000 sq. ft. of showroom & offices. Phase two included a new 11,000 sq. addition including service drive, customer service & new service bays. The third phase was a new 3,500 sq. ft. car wash & detail building.
Client: Penske Automotive Group (formerly United Auto Group)
Owners Representative: Mike D'Amato
Structural Engineer: I.A. Lewin, P.E. & Associates, Inc.
Mechanical & Electrical Engineer: Point One Design, Inc.